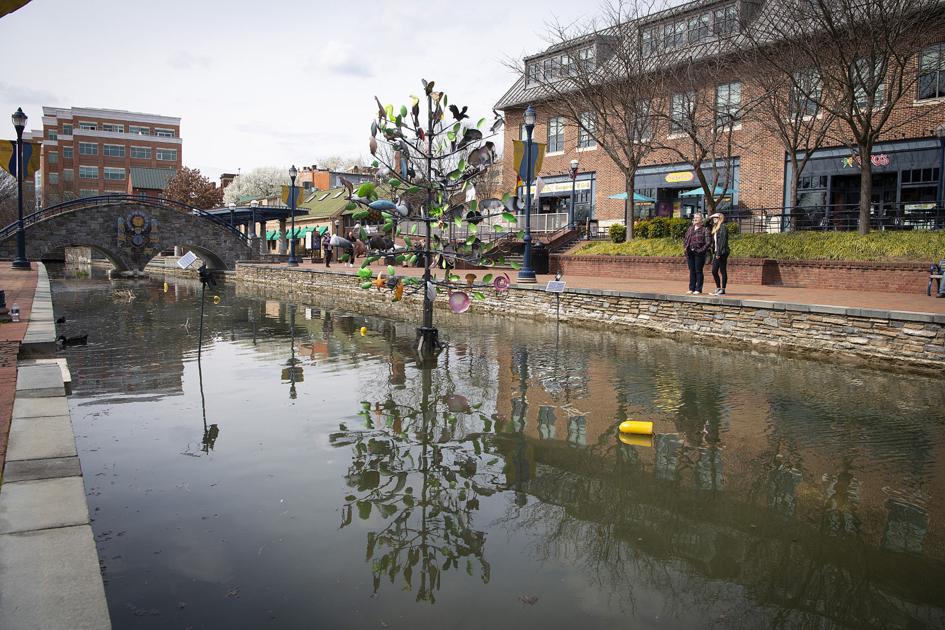 Harnessing the wind: Carroll Creek Kinetic Art Promenade features sculptures that move | 72 Hours
Art and wind are each powerful in their own way.
The Carroll Creek Kinetic Art Promenade, a new public art project at Carroll Creek in downtown Frederick, is putting them both together by harnessing the wind in the name of art.
The Rotary Club of Carroll Creek in Frederick is the organization behind the not-for-profit community enhancement project, which features three kinetic artwork pieces from four area artists on display along Carroll Creek between the suspension and stone bridges.
Chairman of the project is Bernard Gouin, who is also a member of the club.
"The Rotary Club of Carroll Creek has been tied with Carroll Creek for a long time," Gouin said, noting the club was founded in 1993. "Ever since, we've always been part of projects along the creek."
One of the club's first donations was for the mural on Carroll Street, and members have either helped or volunteered their time for several events at the creek, including planting aquatic plants. One event the club has been involved in since 2017 Sailing Through the Winter Solstice, which features decorative boats in the creek throughout February.
Gouin said Rotary members were looking at how to decorate Carroll Creek after the sailboats are removed. He said the plant life isn't added until April and wouldn't bloom for several weeks after that.
"So the idea was, well, how do we fill the gap?," he said.
That's when members settled on the idea of kinetic art sculptures, which move and change depending on the strength of wind.
Gouin said the sculptures were selected on originality, creativity, cost and public appeal.
"We ended up being very fortunate to select three that were very diversified in appearance and in structure," he said.
Artists chosen were Erin Aylor and his "Three Little Birds," which is sponsored by Ann and Ric Adams; Marguerite de Messières and Tsvetomir Naydenov and their piece, "An Elusive Kinetic Portrait," which is sponsored by the Ausherman Family Foundation; and Thomas Sterner and his piece, "Tree of Life," which is sponsored by The Hendrickson Group at Morgan Stanley.
The three pieces, which were installed on March 14 in the creek, will remain on display until November. They will then be removed for the sailboats.
"So that's basically the genesis of it, to optimize the beauty of the creek. And for us, the Carroll Creek Rotary Club, it's really in sync with our mission," Goulin said. "Art is something that resonates with everyone. But moving art, not only resonates, it fascinates people."
The most difficult element to the planning was how to install the pieces. Goulin explained that large steel pyramids had to be made that would allow the pieces on polls to be attached. The pyramids need to sit in the creek the entire time and the water had to be lowered for them to install them first. The bottom will be hidden once the water level returns. Then using a crane, the sculptures were installed on the pyramids.
Gouin said there are plans to add an another three sculptures next year.
Erin Aylor of Myersville makes his living by forging handmade knives.
While he was selling his wares and doing a demonstration during a festival, a woman came up to his booth and started talking about his work. After some prompting, Aylor made a confession to her.
"I said, 'No, I'm not really a knife guy, but I've made a good living at making knives.' She said, 'What would you love to do?' I said, 'I would love to do kinetic sculptures,'" he said recently during a telephone interview at his home studio.
Two days later, he received an email with a call for entries for the Carroll Creek Kinetic Art Promenade. After reading over what the Rotary was looking for, an inspired Aylor went to work in his shop and built his sculpture, "Three Little Birds"
"It just popped right out of me," he said.
He submitted a video of the sculpture in front of a green screen that had the creek superimposed on it and waited to hear if he got picked. Luckily, he was.
The finished tree is 9 feet tall, probably 14 inches at its widest part, and weighs around 800 pounds.
"I built it like they built the Statue of Liberty," he said. "I built a skeletal frame, then I textured a bunch of 16-gauge plate metal so it looked like bark. Then I slowly fabricated it and wrapped it around the whole tree."
Aylor also cut leaves out of copper that he attached to the tree.
"It really has a lot of textures and has a lot of light reflecting off of it," he said. "It's very visual."
Everything on the sculpture except the tree base moves.
"The leaves flutter in the wind," Aylor said.
The flowers move like pinwheels, and there also are charms that ring when the wind picks them up.
"It's really whimsical," he said.
Working with his sponsors, Ann and Ric Adams, Aylor added a solar powered light to the top of the tree. That way, he said, the sculpture glows at night.
Aylor said it took about two months to finish, saying he was even laying in bed at 3 a.m. thinking about how each element would move and how he could make it work.
Although Aylor is known for his knife making, he has experience with larger sculptures including the Story Tree at Frederick County Public Library.
Prior to "Three Little Birds," Aylor said he only made smaller kinetic sculptures, calling himself a "creator maker."
"My gratitude is very strong for Frederick for this opportunity to make something at this caliber," he said. "To make a kinetic sculpture like this, you need funding. I wouldn't have been able to just make this."
Aylor said he's happy with his finished sculpture.
"It's simple. It's a sculpture that represents flight and movement," he said.
And, he said he hopes that people look up from their phones to take in his piece.
"I hope it inspires them," he said.
"An Elusive Kinetic Portrait"
Watching the video of "An Elusive Kinetic Portrait" sculpture spin and move in the wind is one word: mesmerizing.
The piece was created by husband-and-wife team Marguerite de Messières and Tsvetomir Naydenov of Boyds, in Montgomery County.
The piece depicts Theophilus Thompson, a 19th-century Frederick native who is considered the earliest documented African American chess professional in the United States.
Messières and Naydenov have worked both separately — she's a painter and he's a wood and metal worker —and as a team on art pieces and stop-motion videos. But Messières said this piece is their first kinetic sculpture.
"There was a call for proposals and we got excited about the idea of doing something in our community because Frederick is right next door," she said recently during a telephone interview from her home.
When they were trying to figure out what to do for the sculpture, Messières said they looked at the masterplan for public art in Frederick. The document listed possible subjects for public art. That's when they spotted the unfamiliar name of Theophilus Thompson.
"We researched him a bit and he struck us as a very talented and interesting man, and an intriguing subject for a public sculpture," she said.
They also found out, Messières said, that the information online was inaccurate. To help in their research, she and her husband reached out to African American Resources, Cultural Heritage Society of Frederick County (AARCH) who helped give them more information about the historical figure.
"His story is somewhat obscure so that's why we created that elusive feeling to the sculpture, where his image comes and goes," she said. "We really wanted to honor him, but we wanted to acknowledge that elusive quality to his story."
Messières said that is why they pixelated his portrait.
The piece weighs a little less than 300 pounds and the main frame is made of mild steel.
"Within that sort of colorful wing is a stainless steel wire with aluminum tiles," she said. "And there's a little bit of copper and brass here and there as well."
When people see their piece, Messières said she hopes "they're delighted."
"It's a public sculpture so it has a role in delighting the public," she said. "I hope they're interested and that it sparks curiosity and conversation."
"Tree of Life"
When people see the "Tree of Life" by Thomas Sterner, who lives outside of Union Mills in Carroll County, on display in the Carroll Creek Kinetic Art Promenade, they will see the artist's interpretation of life.
"It's big," he said of the piece.
And he isn't kidding. The tree, which is made out of steel, is 14 feet tall and 10 feet in diameter. It has six levels of branches — some have five branches, others three — and each is decorated with animals.
"It has 87 animals that populate a tree that's fabricated (by hand)," he said. " And they each rotate separately, but in the same direction and at different rates."
Each branch contains the silhouette of an animal that he hammered by hand to be concave convex.
"So they'll catch the wind, and they'll all force the rotation counterclockwise," he said. "I never thought when I was doing it, which direction it would take."
Sterner said "Tree of Life" is supposed to be a "fun piece representing all of life on Earth."
Even humans are represented on the tree.
"But the human is the same size as all the other animals and some of the animals are microscopic, but they are depicted as the same size as the blue whale."
For the science lovers, Sterner said all of the phylum and classes are represented on the tree.
"I picked some fun animals, some that are easily recognizable, and some that people will scratch their heads and think, 'Oh, that's not real, it is?'" he said with a laugh.
Although Sterner has made other large kinetic art pieces, he said this one for Carroll Creek is a departure for him. Mostly, his pieces are made for inside art museums or galleries.
For the past three years, Sterner said he has gone after large public pieces. One piece, called "Sprouts" in Westminster, is two sprouts growing into each other and stands about 16 feet tall. The other, "Big Fish School of Fish," is 14 feet tall and is about 16 feet up in the air from a pedestal. It's made up of 557 little fish that combine to make the larger fish sculpture.
"You stand back from it and you can see it's a rockfish, then you get close and you can see that it's made up of lots of little tiny rockfish," he said. "That one has a pretty powerful meaning of coming together and cooperation."
Sterner said it's going to be exciting to see how the different winds will change the sculpture's movement.
"On a still day, it's not going to move at all. On a slight breeze, it's just going to be a gentle, slow carousel, and a really windy day it's gonna be fast," he said.
For the keen observers, Sterner said an animal, a sloth that is about halfway up the tree on the trunk, does not move. There also is a honeybee that's at the very top on a berry that also doesn't spin but bounces in the wind.
He hopes that when the wind pushes through the sculpture, it will be an experience.
"I hope it's exciting because there's lots of different colors. It's moving fast. It'll be harder to discern what everything is," he said. "If they're all moving at different rates, like they should be, it'll probably feel kind of like a tornado kind of thing."
He said it's going to have an appeal to all ages especially for the younger audience members "because it's fun to try to identify everything."